There are currently no items selected for compare.
In order to compare items, click "add to compare" on a product page or within quick look.
Call 800-581-2001 for assistance
Meet the Model: Megan
Posted on August 15, 2014 by Wig Expert There have been 0 comments
The Wig Experts Present... Meet the Model: Megan. Wigs.com model Megan has been more than just a pretty face on our site for the past 3 years. She's also a Customer Care & Sales Specialist and licensed cosmetologist who works in our call center. You may have spoken to her on the phone to get her wig expertise or seen her pictures online. Either way, we hope you enjoy this Q&A with our model Megan.
Pictured above: Megan modeling Twirl It by Forever Young, NOW Clip-in Bangs by Sherri Shepherd and PLF001HM by Louis Ferre
Q: What was your first impression of wigs when you started working at Wigs.com?
A: I thought wigs were fun. They can serve as a confidence booster on a bad day or a quick little D.I.Y. (do-it-yourself) makeover!
Q: Did you have any preconceived notions about wigs before the day you came in for your first photo shoot?
A: Yes, I wasn't aware of all of the natural features that were offered in some styles. It opened my eyes up to how many people have been wearing wigs that were too natural to notice.
Q: Do you have a favorite wig style?
A: I love any wig that I can wear up or down, in a braid, straight, or curled. I call it an all-purpose wig. An example is Jon Renau's Gisele. It's fabulous!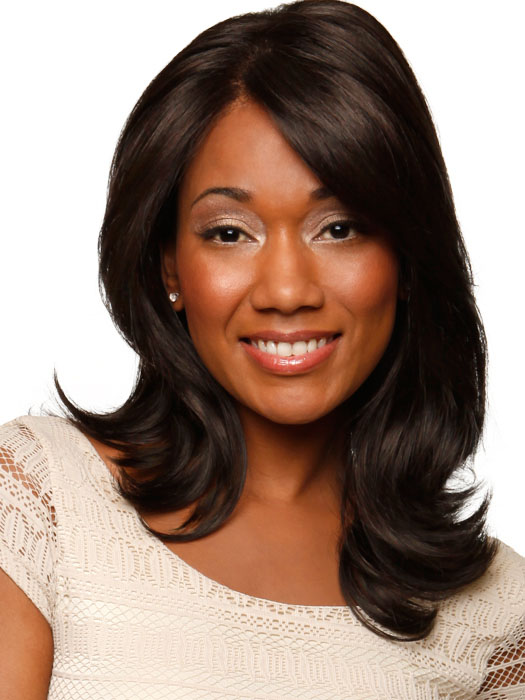 Pictured above: Another Wigs.com model, Carolyn, in Gisele by Jon Renau
Q: Do you have a favorite wig brand?
A: My favorite is Jon Renau. They're innovative and really consider the clients' feedback when developing new styles and colors.
Q: Do you have a favorite wig color?
A: 4/27/30, which is an even blend dark brown, medium blonde and medium auburn. I don't like to color my own hair so that is my go-to color when I want a getaway from the natural brown without a drastic change.
Q: Do you have a favorite wig photo?
A: Yes, this one of me in Glow Girl by Forever Young. It really captures the movement and color of the hair. I felt so pretty!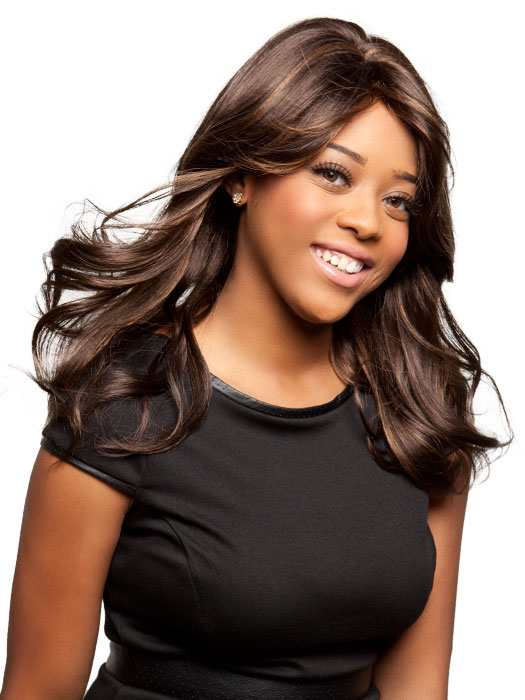 Pictured above: Megan modeling Glow Girl by Forever Young
Q: Had you ever worn or modeled wigs before?
A: I modeled custom wigs in hair shows, but none were as natural as the ones I model now.
Q: In your experience, how comfortable would you say wigs are to wear?
A: I prefer to wear a 100% hand-tied wig for the highest level of comfort. A wig can be a little uncomfortable to wear ALL day without the right fit - so I would recommend a Sure Grip by BeautiMark to get the best and most comfortable fit.
Q: Do you wear wigs in your personal life?
A: Yes, on bad hair days! I own Gisele by Jon Renau, Glow Girl by Forever Young, Winner Elite by Raquel Welch and Christina by Wig Pro.
Q: Do you have a special wig tip or trick?
A: Before storing your wig at night, ALWAYS detangle and smooth the hair with a wide tooth comb. Begin detangling from the ends and work your way up. Always keep your wig on a wig stand when you aren't wearing it. Treat it like your baby and you're sure to get a decent amount of life from it.
Thanks Megan! Stay tuned for more "Meet the Model" interviews.
This post was posted in wigs